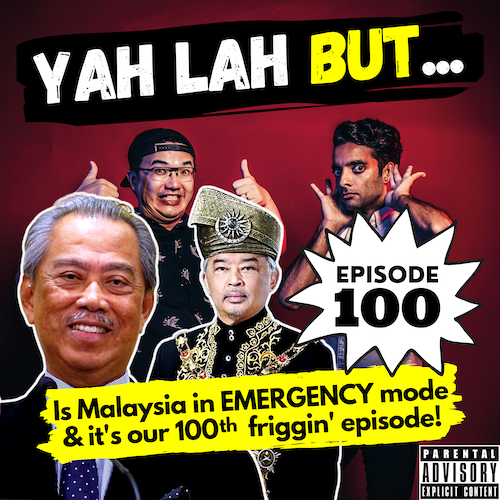 If you're wondering WTF is going on in Malaysia's "emergency" discussions, we do a recap so you don't have to. Heads up that at the time of this upload, Malaysia's royal rulers were still in discussion. On a happier note, this is our 100th FRIGGIN YLB episode so THANK YOU ALL! As we get emo, we do a recap of our epiphanies so far. 
30% OFF!
This episode was proudly brought to you by Wolf+Wald, who make kickass organic and sugar-free drinks. Get 30% OFF at https://www.wolfwald.com/ by using the promo code "YAHLAHBUT" (T&Cs below)
$30 min. spend

Valid for our SG-based listeners only

Extended till 2 Nov 2020
GIVEAWAY TIME
Share this podcast episode on Instastories and tag @ministryoffunny and @wolfandwald and you could win a lovebundle of 2 x bottles of pure apple juice, 2 x bottles of sparkling apple and 6 x Street Food Lemonade cans! 
You've got 1 week, and we'll announce the winner 2 episodes from now in EP#102. 
Check out our #YLB Subreddit and our one SHIOK things below!
MMA: Dominant Khabib calls time on undefeated career - CNA
Borat bounces back just ahead of US elections with 'outrageous' pranks
Peace!
Play Now